The Jacob Burns Mysteries

Th
Twenty years ago, before I started writing for TV, I wrote four light amateur sleuth mysteries. The hero of these novels, Jacob Burns, had a lot in common with me: he was a writer living in the small town of Saratoga Springs, New York, with two young sons and a wife who taught English at the local community college. As the saying goes, write what you know!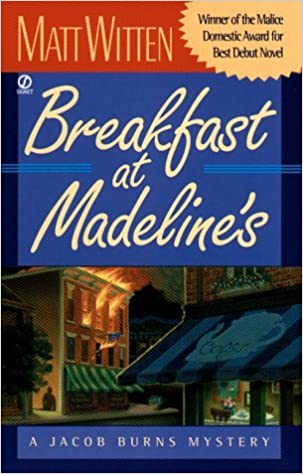 The Jacob Burns novels won the Malice Domestic Award, and even though they're two decades old, they still feel fresh to me. For instance, The Killing Bee, in which an elementary school principal gets killed by someone who bashes him in the head with a spelling bee trophy, addresses issues about education that are still very current. Recommended for the teachers in your life! And I recommend Breakfast at Madeline's for the aspiring writers in your life.
Grand Delusion is about nimbies and crooked cops, inspired by the drug dealers who lived next door to us, in a house they rented from a police officer. Strange Bedfellows, inspired by a friend who ran for Congress, is about lethal small-town politics.

These novels are different in tone from the thrillers like The Necklace and Killer Story that I'm writing now; they're small-town cozies. But equally fabulous!
REVIEWS
"Witten delights with his charming characters, especially Burns himself." – Publishers Weekly

"A breezy, pleasantly clipped narrative filled with excitement and wit… The perfect antidote for a rainy day." – Library Journal

"Told with warmth and wit, Strange Bedfellows is a wry story that packs a wallop of an ending." – Romantic Times

"Jacob is a very likable hero with a good sense of humor… Grand Delusion is a cleverly plotted mystery that keeps the murderer well hidden until the end." – The Mystery Reader

"The pace is swift; the elements fit together neatly; the writing is assured, on-target, and often amusing, and the characters well-drawn and likable… As well-crafted as they come." – The Drood Review of Mystery

"A success. Fast… lighthearted… Witten presents his characters and plot twists in a straightforward and believable manner." – Albany Times-Union