(Note: The Cello is a short short story I wrote last year. It was published in Flash Fiction Magazine.)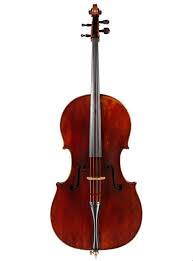 Doug waited in the audience for his wife's cello to appear, in the arms of a young man named Christopher Hsieh, according to the concert program.
He had met them – his wife and her cello, that is – sixty-one years ago, at a performance of the Dutch Symphony Orchestra. Before the Telemann concerto ended, he was smitten with both. Rachel was a thin brunette with dreamy eyes who swayed to the music as she waited for her cue. The cello, Elisabetta, was deep brown with a soft shine, made in the 1700s as he later learned. Together, the young woman and her cello created a sweet but powerful resonance that lingered. In his case, forever. Geography kept them apart for seven years; he was a physics student at Berkeley, and she played in orchestras in Europe. But love overcame distance, and in 1964 they were married.
For forty-two years Doug listened to his wife and her cello. At concert halls, himself bringing flowers. At home, her practicing for hours and him doing physics, as the music floated into his study.
Then the fibromyalgia hit, and the music slowed and then stopped.
But Rachel bounced back. Though she could never play Elisabetta again, not for longer than a couple minutes at a time, she began acquiring students. Music came back into their home. She was a marvelous teacher as it turned out, not that it surprised him. The two of them went to her students' concerts together. They brought flowers.
The breast cancer was harder to beat than the fibromyalgia. After two years, she was dead. Her students filled the church and, one by one, gave testimony to the wonderful woman who had inspired them.
And him.
The cello stood in a corner of the bedroom, the smell of the ancient maple and spruce comforting him when he came near and caressed her. He closed his eyes, feeling his wife's wisdom and beauty in her curves.
But he couldn't keep Elisabetta there, alone, forever, her voice silenced. Rachel would not have wanted that.
The cello was of the old baroque style, which was coming back into vogue. The internet said she would sell for at least three million dollars. He could travel the world, stay at five-star hotels, sip the finest French cognacs.
Instead he donated the cello to the UCLA music program.
There were kids coming into UCLA from all over the world, poor talented kids on scholarships, playing on cheap cellos with chipped varnish that would keep their music from ever sounding as beautiful as it could be. With cellos like those, the UCLA kids could never, ever soar like Rachel did.
But with Elisabetta, one of them would at least have a chance.
Tonight was the annual freshman Vivaldi concert at UCLA. It would be Doug's first chance to hear the cello since Rachel died. The concert would begin with five pieces for violin and viola soloists, and then the sixth and final piece would feature Elisabetta.
He sat in the concert hall at Powell Library, surrounded by strangers, and read the program. He was disappointed. This young man who had been given the cello, this Christopher Hsieh, didn't thank him or his wife in the bio. He listed everything he'd ever done – this concert, that concert, this summer music program, that famous teacher – but never mentioned the three-million-dollar cello that had been loaned to him for the next four years. Several of the other students did thank their instruments' donors. But Rachel and Doug were not recognized.
It was like Rachel had never existed.
He was being petty, he knew. He took deep breaths and tried to forget about it. His wife was not a small-minded woman. She wouldn't have cared.
The ensemble came onstage, and then the first soloist. Doug made himself politely applaud along with the rest. The music began and he closed his eyes and listened. It released him. Vivaldi's violin concerto in G major… exquisite. The viola concerto in G minor… fast and flashy, with a sequence of ascending arpeggios his wife had always loved.
Then came the cello piece. Christopher Hsieh came onstage carrying Elisabetta.
As his name indicated, he was Asian. Chinese, Doug thought. Handsome, with even features and dark eyes that were big and… dreamy, Doug decided.
But Doug didn't like him. He should have mentioned Rachel in the bio.
The guy sat down to play. But instead of nodding to the ensemble to begin, he cleared his throat and began to speak. Doug was puzzled. None of the other soloists had spoken.
"Before I begin," he said, "I believe Mr. McKinnon is in the audience somewhere. Could you stand up, sir?"
Doug was a shy man, and taken by surprise, so he sat there. Christopher scanned the audience anxiously, obviously worried he wasn't here. Finally Doug stood up.
Christopher smiled, relieved, and gave Doug a wave. "I want to thank Mr. McKinnon for donating the cello that belonged to his wife, the brilliant musician Rachel McKinnon. It's meant the world to me."
The entire audience started clapping, and the ensemble too. Doug felt his face reddening. He could barely move his body, but knew he was supposed to respond. He nodded stiffly. Then he sat down.
Christopher continued, "This cello is so beautiful and elegant" – yes, thought Doug, that's the right word for it, elegant – "that I call her Mona Lisa. And I promise that I will always approach her politely and treat her with courtesy."
The audience applauded again, and looked Doug's way. He nodded again.
Rachel would be so happy, he thought. Mona Lisa. He just hoped this Christopher could play. He wanted to tell Christopher, don't be too courteous to this cello. Rachel played her with passion and power. She got the full range of emotions out of her.
Christopher nodded to the ensemble and they began to play. It was Vivaldi's cello concerto in C minor, RV 401, a piece Doug knew well, had heard many times over the years in his study.
By the fifth note, he knew he had nothing to worry about. Christopher made love to the cello with his whole body, from his perfectly balanced feet to his swift, flying hands. The passion and the power, Christopher had them both.
It was Rachel, come back to life.
He closed his eyes.
At the end of the concerto, he applauded along with the rest of the audience. Christopher bowed, smiling, and walked away. The audience kept applauding, and he returned.
This time, instead of bowing, Christopher motioned for Doug to come up and join him. Doug could hardly feel himself rising to his feet. He walked up to the stage.
Luckily he had remembered to bring flowers. He brought them up and handed them to Christopher. Then the two men embraced, as the audience applauded.
The cello saw everything, and would remember it all for the next time she was played.